Hi Beauties!!
Although no one really knows the secret behind promoting maximum natural hair growth there are tons of tips that can help in the process of trying to unlock your natural hair growth potential!
Pre-relaxer and even post relaxer my hair was always right above bra strap length. My hair broke off completely when I was seventeen because of over processing. I had to ultimately cut it to my chin and start my natural hair journey. Since I went natural (three years ago) my hair has grown steadily and had many months of crazy growth! I attribute this to a couple of things.
1. I did a natural hair no heat challenge as a new year's resolution starting in January. It was supposed to last six months but it lasted about 4. Nonetheless, my hair grew so much and got significantly thicker because of this process.
2. Going along with my natural hair no heat challenge, I coupled that with a semi ayurvedic hair care challenge as well.
a. According to beautycarehub.com, Ayurvedic hair care simply put is "a kind of holistic treatment that is nearly 5,000 year old originated from India. The concept of ayurvedic and its care is becoming popular worldwide. Ayurvedic holistic treatment is very popular at beauty salons, spas and as alternative living. With right ayurvedic care your hair will not only become strong, but also improve in luster and color. Ayurvedic hair care helps in addressing hair problems and provides you with the benefits in long terms."
b. I mixed different ingredients together to create homemade shampoos and conditioners. This was a very time consuming process (hence why I only did a semi challenge lol!) and only lasted for a couple months but my hair absolutely loved it!(In depth post on this coming soon!)
Trying to grow your hair out and get results can be extremely frustrating! Trust me, I know. But there are things you can do to speed up the process! Try the natural hair no heat challenge I mentioned earlier and also try any version of the Ayurvedic hair care process!
Here are some bonus tips!
· I would say the #1 tip to getting longer, healthier hair would be to start with a balanced healthy diet! DRINK LOTS OF WATER! As much as you might hear this it is absolutely true. DRINKING WATER HELPS TO PROMOTE HEALTHY HAIR!
· Try taking a fish oil supplement to really speed up your growth! (As much as I hate taking vitamins I took a GNC triple strength daily fish oil pill for about 3 months consistently and it worked wonders. My hair was noticeably shiner and growing at a steady pace)
o According to the GNC website, fish oil pills "are proven to maintain healthy cholesterol and blood pressure levels. They're also loaded with proven benefits for your brain, eyes, skin, joints and heart."
· Moisture is key to growing healthy natural hair! I always get the question of what's the best daily moisturizer to use. I really don't know the ultimate answer to this question, but I do suggest purchasing a daily leave in conditioner that has a high moisturizing level (That way you're killing two birds with one stone while simultaneously saving money!) EX.)Carol's Daughter Black Vanilla Moisturizing Leave-In Conditioner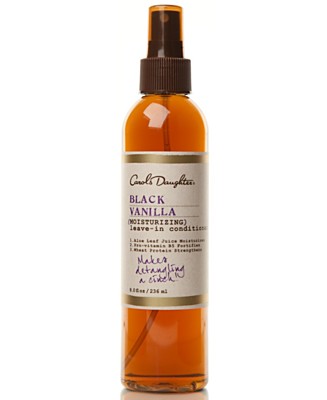 o Moisturizers keep hair soft and supple! An easy way to get added moisture is by using pure coconut oil (my favorite is vatika)
§ Ingredients: Coconut Oil, Neem Oil, Brahmi Extract, Fruit extracts of Amla, Bahera and Harar, Kapur kachri, Henna leaf extract, Rosemary oil, Lemon Oil, Fragrance
o Use this on wet hair and go under a hooded dryer for at least 15 minutes
o The results will leave your hair feeling soft and shiny for days!
That's all for now beauties! What tips and tricks do you have for growing long black hair?
xoxo,