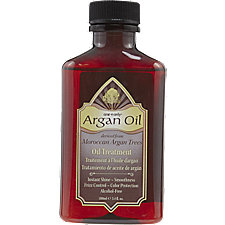 For years now, Argan oil has been critically acclaimed for its spectacular growth power in African American hair. Celebrities like Oprah Winfrey live by it! But, what exactly is argan oil?
Argan oil is extracted from a tree in Southwest Morroco. The oil comes from the kernels of the tree and its uses include motorizing qualities, anti-aging properties as well as skin rejuvenation and hair loss prevention.
According to arganoilsociety.org, the benefits of argan oil includes the following:
Argan oil hydrates the hair in a natural way. It stops the curliness and roughness of hair in an efficient way.

Argan oil penetrates into the hair pores or shafts and enhances the elasticity of hair. It also proves to be very nourishing for the growth of hair.

Argan oil is very good for uncontrollable and unmanageable hair. It restores the smoothness of hair and makes them manageable again.

Natural antioxidants present in Argan oil strengthen the hair by repairing the damaged cellular membrane of hair.

Presence of Vitamin E in Argan oil makes it a tremendous agent for hair treatment. Many external and internal agents like heat, over styling and oxidization damage the hair. Vitamin E present in Argan oil is very useful in restoring the natural hair and renewing and repairing the damage caused by destructive agents.

Researchers believe that non-greasy Argan oil locks the moisture in and adds to and restores the luster and shine of hair.

Color treatment of hair causes certain damage to hair, makes them brittle and takes away the smoothness. It is an additional benefit of Argan oil that it cures the brittle hair and increases the life of color treated hair. In this job it even surpasses in competitiveness from Jojoba oil.

It is believed by hair stylists that Argan oil may finally be the right choice to heal and restore the damaged, dry and weak hair from environmental extremes, excessive styling practices and perms.

Rich contents of unsaturated fatty acids like Omega 3 and Omega 9 in Argan oil are a direct source of essential nutritional components for hair pores and roots. These unsaturated fatty acids strengthen the protein bonding structures in hair thereby improving strength of hair and healing the split ends of hair.
I'm not a proponent of using many oils, but I do love argan oil! I recently tried an argan oil shampoo that was fantastic! I look forward to trying argan oil in it's raw form and doing a pre-poo treatment soon!
Interested in trying argan oil? Purchase it here!
Have you tried argan oil? How does your hair like it? Let me know!